This product will be shipped from EU or the USA depending on your location.
Chapulines Sazonados
Buy Chapulines Online for That Exotic Ingredient that Gets People Talking
Bulk & Wholesale Chapulines! People buy chapulines on the street in Mexico while at the same time they also find them on the menu in the finest restaurants. In fact, many North Americans are surprised to find the beer nuts they are snacking on are actually spicy grasshoppers. That's right, chapulines are an integral part of Mexican cuisine. They are starting to take hold in North America. 
As far as edible insects go, chapulines and crickets are the most common insects consumed by people from North America. Since the recent introduction of 'Toasted Grasshoppers' at sports stadiums, chapulines are now a fan favorite snack, selling out on game day across the USA. Chapulines are a popular Mexican snack originating from Oaxaca, Mexico..  Tasty, healthy and salty, sour, spicy.
Hoppy & Healthy!
Similar to crickets, they are packed with protein, Omega 3, B12 and many other vitamins and minerals. The chitin, or exoskeleton, is a prebiotic which is food for probiotics. They're considered a superfood.
The best reason to add them to a menu is that they are great tasting. In North America, they're an exotic addition to tacos and all Mexican fare. Your guests will be talking and posting about their experience. Most agree, they are fabulous!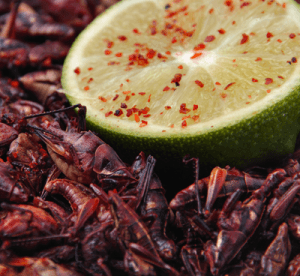 Mexican cuisine has taken a step up lately as many restaurants offer more than just the standard fare. In the process, people are discovering all sorts of new and exotic ingredients right here in North America. These include chapulines and Sal de Chapuline (tradition Mexican salt used to rim glasses of mescal).
Size: 1 Ounce (30 grams)
Ingredients: Grasshoppers, lemon, salt, garlic and chile
If you are a chef, educator or group leader, you can buy wholesale chapulines here: Wholesale Chapulines