This product will be shipped from EU or the USA depending on your location.
Chapulines  Sal y Limon
Chapulines For Sale
Did you know that the red color of chapulines is not from the chiles? Similar to lobster, brown and green grasshoppers turn red when cooked. The chapulines for sale are cooked with traditional chile, lemon, garlic and salt.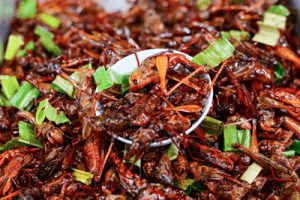 As far as edible insects go, chapulines and crickets are the most common insects consumed by people from North America. Since the recent introduction of 'Toasted Grasshoppers' at sports stadiums, chapulines are now a fan favorite snack, selling out on game day across the USA. Chapulines are a popular Mexican snack originating from Oaxaca, Mexico..  Tasty, healthy and salty, sour, spicy.
Hoppy & Healthy!
Similar to crickets, they are packed with protein, Omega 3, B12 and many other vitamins and minerals. The chitin, or exoskeleton, is a prebiotic which is food for probiotics. They're considered a superfood.
The best reason to add them to a menu is that they are great tasting. In North America, they're an exotic addition to tacos and all Mexican fare. Your guests will be talking and posting about their experience. Most agree, they are fabulous!
Size: 1 Ounce (30 grams) Sample Bag
Ingredients: Grasshoppers, lemon, salt, garlic and chile